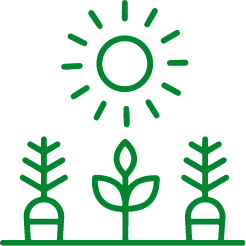 In Ora/Auer, Region South Tyrol
Intensive agriculture landscape with apple orchards in Guyot form,  covered by  trackers installed on a suspended structure with cables – flat alluvial plain in the bottom of the Adige valley

In Bierbeek, Region Flanders
Extensive agriculture landscape with pear orchards in Guyot form  covered by semi-transparent modules installed by KUL on the existing hail nets structures | hilly landscape with open arable fields and forest patches east of Brussels

in Scalea, Region Calabria 
Intensive agriculture landscape with lemon orchard in tradiational form covered with Convert trackers installed by EF Solare and Le Greenhouse – coastal flat alluvial plain at the mouth of river Lao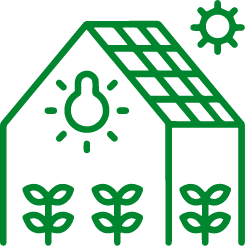 Raspberry and strawberry crops
In Lierop
A mix of various configurations of different PV modules and structures were installed over raspberry and strawberry crops, by ENGIE. The system also considers recirculation of drain water and rainwater collection.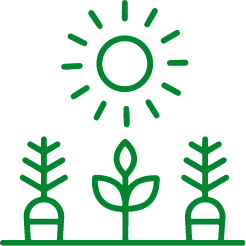 Apple orchard for the future
In Bolzano
Multifunctional trackers for an apple orchard that can integrate irrigation, antifreeze, hail, and insect protection. The demo uses a "Guyot" system with a N-S orientation. 

In Scalea
Innovative citrus orchard solution that can integrate irrigation and hail protection systems together with agronometer and insect detection systems. Ensuring at the same time the use of energy directly in situ thanks to the production and storage of photovoltaic electricity with a stand-alone configuration.

In Barcelona province 
Semi-automatic PV devices for the vegetable crops (tomatoes, melon, lettuce, and fava beans) that can integrate bird and insect protection, resistant to chemical products. The devices are optimised for the various cultures and made of different materials (wood and steel). For the monitoring of weather data will be designed and develop an automated robot.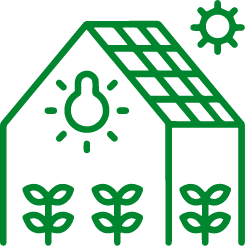 Retrofit of existing greenhouse fully equipped with sensors to correlate tomatoes yield with incident light depending on presence of uncoated and coated PV modules.
The solution will design a specific PV panels and agri-PV modules, optimazing the use of materials and integration in landscape.

Design of the greenhouse driven by standard PV module size and optimised PV module-crop placement for crop and energy yield.